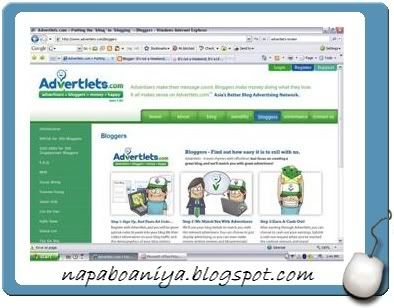 I've joined
Advertlets
Asia blog advertising network when I started on this blog. I chanced upon it while visiting blogs from Malaysia and Singapore. I noticed alot of them had the little rectangular blue white green box on most of them. Being the "everything also kaypo auntie" I clicked on it. Read about them, noted I was eligible and I registered.
Somehow, I felt at ease with
Advertlets
website. It was even more heartwarming seeing singlish and melayu wordings like - dun play play, serious one, boleh and alot of others.
I noticed
Advertlets
almost immediately displayed ads on my blog. Which pleases me of course. It's refreshing to see new ads on my blog often enough so I dun get bored of my own site not to mention visiting bloggers.
Also having their closest competitor placed on my blog at the same time I started making comparison. The other one was almost forever on a standstill with only 2 images - their small blue image or slightly bigger one with the Merlion on it. In my opinion, a tad too boring.
A plus to
Advertlets
that I also noticed that I was generating moolar ($)!! At a pretty slow pace but at least I see the figures changing every now and then. Over at the other competitor, they only pay you when advertisers choose to have their ads displayed on your blog. In my pathetic case, NONE! So, no moolar at all.
One thing I hope to see on
Advertlets
is that they'll start putting up analytics of our blogs on their website.
My conclusion,
Advertlets
works better for me than the other does.
All those that are interested, do visit them here,
sign up
, sit back and relax like me for your cheque to start appearing!!