Janelle & Javier goofing around the pool.
Other WSS and WW(Sunday) here.

Awards Galore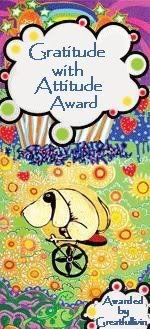 The Gratitude with Attitude award was created by Greatfullivin of
Gratitude Journal.
It has been passed down to me by
MaryT
of
Work of the Poet.

Mary's a real nice lady I've known from blogging. Her posts are always informative and I get to power up my mostly dysfunctional brain with it. If you've not visited her before,
visit her
now and power up your knowledge :)
It's by far one of the most captivating and inspiring awards I've received so far.
Gratitude with Attitude it's name speaks of itself. Here's sharing the words of the creator,
Greatfullivin
.
"I am so Thankful for all of you who visit regularly, even when I am irregular. :::laughing now::: I appreciate you all so much! I love hearing about your Gratitude and I love that some of you have carried a Grateful theme to your own blogs! I love that you understand being Thankful is not about a passive attitude. It's about learning. It's about seeing things different, having new eyes! Gratitude is about keeping that happy positive outlook on life…even when things don't go the way we want them to. It is not about giving in, lying down or accepting everybody else's rules it's about making your own rules! Doing what you do with a happy grateful attitude keeping the "sour" to yourself. Gratitude IS Attitude!"
These 5 wonderful awards were also bestowed on me by kind blogger buddy
Healy
.
I'm so glad that I received the Peace Award!! Why? Cause I created it..LOL and it feels good to have it awarded back at me :)
Peace award was created on Valentine's Day 2008. Meant for love, friendship and peace around everyone. World peace, home peace, office political peace and actually most importantly self-found peace with one's own life.
♥ Thanks Mary & Healy ♥


There's a mp3 player on my blog at the top right hand corner.


Bleeding Love

by Leona Lewis.
Great song and lyrics.