Standard thermometers were out of stock in most pharmacies ever since 2 weeks ago. I finally manage to get a Omron Digital Thermometer for my gal today in town.
I hope she doesn't lose this one given the price-tag on it!!! She was issued a free thermometer in school but as usual, she loses her stuffs easily.

I like this temperature taking movement in their school. In prevention and precaution of Hand Foot Mouth disease and Dengue Fever. Any temperature higher than 37degrees warrants a call from the school in picking our child up from school. I find it's also good practice in teaching our child to take their own temperature and knowing their very own well-being.

I was in town to meet JC for lunch and do some catching up. We were at Paragon and throughout the entire time, I mind was flooded with thoughts of R.
Memories of R came back and it hurt like hell. I dun like that feeling. I thought I was on the path of recovery. I thought I let him go. I thought it wouldn't hurt this much anymore. All in vain.

无非想放下你, 还是挂念你.
谁又会及我伤悲, 前事最怕有人提起.
就算怎么伸尽手臂, 我们亦有一些距离.

With joy and gratitude I've recieved these wonderful awards from the following kind bloggers.

This cute 'Blogger Friend' Award is from Marla.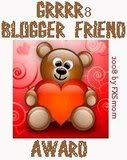 These following 3 awards are from Ellen HeartBeats.